Cherry Choo's Story
All Glory and praise to God! Truly in His own perfect time, His grace is so sufficient for me and my family. My parents finally gave their hearts to Jesus and accepted Jesus as their saviour. I have been praying for their salvation for almost 20 years!
Towards the end of last year (2012), I was almost giving up on their salvation when the Lord intervened. He did a miraculous change of heart of my parents.
首先我要将一切的荣耀归于神,确实神有他最美好的时间,神对我们全家的恩典是何等的丰足。我的父母愿意从内心里接受耶稣基督为他们个人的救主 。我曾为他们的救恩祷告了快20年!直道去年2012年,我几乎完全放弃对他们得救的祷告,直到主耶稣的带领,实行神迹改变了他们的心归向主。
Sometime in Nov 2012, my mum called me and asked for details of our TCM clinic services. She wanted to visit the TCM clinic with my dad. I linked them up with Pastor Moses and Pastor Choon Wah. Without any delay, they arranged to come down to the Bethel TCM clinic on the Wednesday session. Pastor Moses ministered to them on the first visit. My parents' hearts were open and receptive!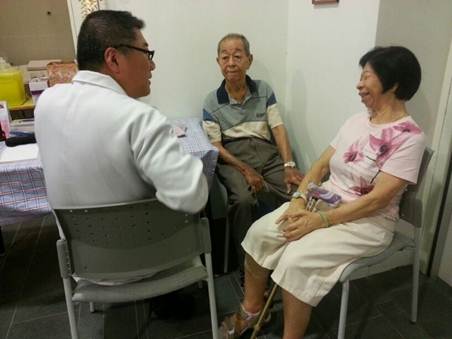 自2012年11月,我母亲问我有关教会中医诊所的事,因为她想带爸爸去看中医。我就联系了毕牧师和春华传道。他们毫不迟延的安排在拜三就来到伯特利中医诊所。也是毕牧师第一次与他们见面。当时我父母的心相当的开放和接纳。
On that subsequent Sunday, Pastor Moses told me that my parents have said the salvation prayers with him at the clinic. In the beginning, there was a slight spirit of disbelief. My heart was saying: "How can this be true?"
Subsequently, my parents started to come to the clinic regularly. Every time I invited them to church for service and special events, they would come.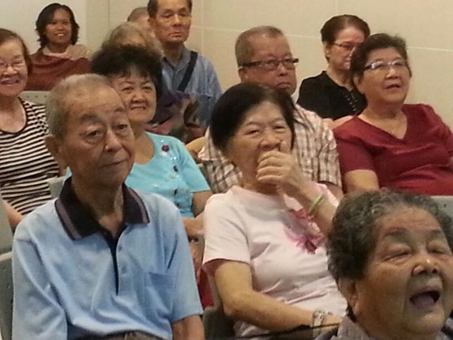 接下来的主日早晨,毕牧师告诉我他们在诊所已经作了决志信主的祷告,从开始,我很怀疑,我的心告诉我 "这怎么可能是真实的?"

日后我父母持续性的来诊所看诊,我也每次邀请他们参加教会的聚会和特会,他们都愿意来。

On 6 Jan 2013, Vision Sunday, when Pastor Chia asked for salvation call, my parents came forward and "formally" accepted Jesus into their hearts! All glory and honour to our Mighty GOD!

在2013年一月6日异象主日,当谢牧师正带领救恩呼招时我父母走到台前 "正式地"接受耶稣在心中为他们的救主。一切尊贵荣耀都归给我们全能的神。

A few days later, my mum initiated the removal of all the altars and idols at home! Praise God and thank God for His faithfulness!

Without delay, I arranged for the removal of idols and house cleansing with Pastor Moses. He gave a very good suggestion to conduct the exercise after church service on 20 Jan 2013.

几天以后,我母亲自愿安排从家里移除祭坛上的偶像,感谢赞美神的信实。接着我与毕牧师安排除偶像与洁净家屋的日子,他就安排在2013年一月20日主日崇拜过后进行。

On 20 Jan 2013, 2.30 pm, Pastor Moses and the team from Bethel arrived at my parents' home to conduct the home cleansing and blessing session.

2013年一月20日下午2.30,毕牧师与同工团一起来到我父母家进行除偶像与洁净家屋的日子的事工。

My mum who has been a Buddhist almost all her life, willingly gave up everything that was linked to idols worship and allowed the team to remove them. Without hesitation, she allowed the team to remove the things she held dear for the last 40 years. The pastoral team prayed and blessed the household and every room in the house.

我母亲过去以来都是佛教徒,现在能够没有丝毫犹豫并心甘情愿地放弃他所拜了40多年的偶像,牧师与同工也祷告祝福整间屋子与每个房间。

My mum even laid her hands on my dad and said prayer of healing for him. I truly want to praise God and give HIM all thanks for his faithfulness, mercy, love and patience.

我的母亲甚至将她的手放在父亲的肩膀上为他按手为父亲得医治祷告。我真的要赞美感谢神的信实,怜悯,恒久的慈爱。

I would like to encourage my brother and sisters who have unsaved parents and loved ones to pray without ceasing, to trust God and believe that He will bring salvation to your loved ones in His own perfect time.

我要鼓励所有的弟兄姐妹,要不断地为父母亲人恒切祷告,相信神必定用他最美好的时间带领你们的亲人得救。

"Believe in the Lord Jesus, and you will be saved – you and your household."

Acts 16: 3

使16:31他们说,当信主耶稣,你和你一家都必得救。

All Glory and Honour , Praise and Thanks be to Our Lord Jesus Christ! Amen!

将一切的尊贵荣耀,赞美和感谢全归给救主耶稣基督!阿门!