Gemma Villacorte's Story
My God Provides!
While I was in Philippines, I was very miserable for years and things became worse when I lost my job because my boss left the country. I prayed, but wasn't sure if God could hear me. Everything was bleak and dark. My sister and I made plans for me to go to Singapore to work first and she will then follow with my daughter. Singapore was chosen because it is a place where it's possible to bring my child along. Although we didn't think our plan would work, we did everything we could to get to Singapore; we borrowed money from relatives and friends.
December 9, 2011, I arrived in Singapore with very limited financial resources. I was given 30 days as tourist, that means, 30 days to find a job. Even after 40 online applications a day, I did not get a single reply. I was crying daily out of fear that if I don't get a job, I wouldn't be able to repay the money I've borrowed, my sister wouldn't be able to come, and most importantly, my daughter!
Five weeks passed, I was given a 30 day extension, another chance to find a job. I was desperate, and I ran to St. Stephen Church, and I prayed very hard, all of a sudden, I just felt like He answered me this time, and He said, "Give me 1 week" I smiled and said thank you.
When I opened my email that night, the inbox had only one mail saying, "can you come down for an interview this Monday?"
Monday came, I took a practical exam, from morning to 4pm, I signed a contract that day.
Tuesday, they applied for my pass.
Wednesday, I went for the medical check up.
Thursday, the medical result was returned.
Friday morning, I went to MOM to process my pass, and at exactly 1pm, I was at my desk and had started work.
Exactly 1 week, as He promised, and that was the very first miracle I had here in Singapore.
My God Answers Prayers!
Standing at the corridor, looking across the street, a construction of a modern building caught my attention. I joked saying that I would be very lucky if I could work in that construction project, since it's very near. Being alone for the first time in my life, in a foreign land, I asked God, "what is Your purpose that You brought me here?" I felt like there was no answer.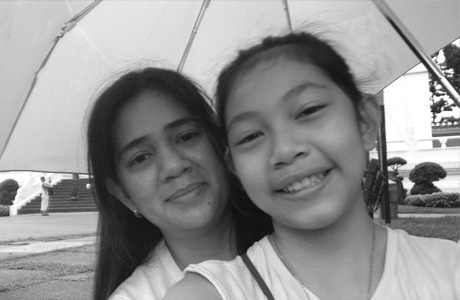 I was rushing home one day and was amazed when I saw a huge cross installed and lit right in front of that interesting building across. I realized it was a church, I couldn't help but smile.

After working for 2 months, I was transferred to the company where I met Ricky Tan. He invited me to his church and many times I refused because I was catholic. One Sunday morning, after attending mass, my sister and I decided to go to Ricky's church. Having no idea where the church was, we asked our roommates where NTUC Aljunied was, and they said, it must be the church building I have been looking at since day 1.

Ricky welcomed us and when I entered the Sanctuary, I was amazed to see a big perspective of the church flashed on the screen, it was exactly the angle that I would see from our corridor, and the song went "the reason I live is to worship You"

"Aah, now He answered me". His plan to bring me here was for me to worship Him, that moment, I knew that coming to Singapore, the block where I stayed, the company I worked in, meeting Ricky, were not at all coincidental, they were His plan!

Then I accepted Him, now that I have a personal relationship with Him, I know that every prayer and praise. He hears me!

Since then, I can't count the many blessings and wisdom He's given me!

Now, I've got a job, my sister's got a job, we can help our family back in Philippines, I have my daughter with me now. She's taken an admission test from MOE for Secondary 1 on 29 April and I know, that whatever the outcome is, I know everything will be ok, in His hands.

I continue to pray for the day when my family and my husband would accept Jesus Christ as well.