Finally Back After 16 Years
Hi, I am Nelly. I want to testify how amazing God is to me.
Since the year 2003, my sister has been missing. She left home and we lost contact. I heard from my other sister, she was in Flores. During that time, I am already working in Singapore. I have been praying for her to come back home.
Currently, i join the bible class in Bethel's Indonesian service and we have prayer group to practise what we have learnt. I asked my group members to support me in praying for my long lost sister. Praise the Lord that on 19 September 2019, my sister is finally back after 16 years.
Thank you Jesus!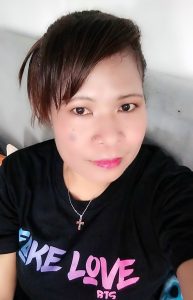 Now She Walks freely
Hi, I am Meri from Bethel's Indonesian Service. I would like to testify the Lord's greatness.
Since May 2019, my older sister was sick. It started with a stomach pain but eventually she was brought to hospital. According to the test result from the hospital, she had high blood pressure and that caused the kidney to not be able to work properly.
She had difficulty eating and vomiting. She was given medication and was to go back to the hospital for checkup every few days. For weeks, she didn't get better. She was brought to other doctor and even specialist, but the result is the same – high blood and symptoms of kidney failure. She had been in and out of hospitals for quite a number of times because of this.
Praise the Lord since BIF has Bible class. We started our group prayer and my group members supported me in prayers for my sister. On 29 September 2019, my sister was admitted to the hospital again because of anaemia and she needed blood donor. She stayed in the hospital for a week to go through all the different tests.
Praise the Lord, her symptoms for kidney failure was totally gone. Previously she could only lie down or sit. Now she can walk freely. To God be the glory. Thank you!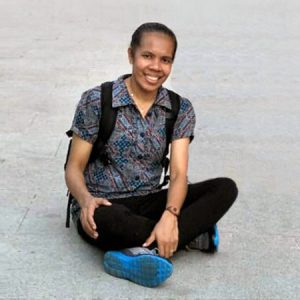 Royal Rangers Adventure Rangers Mission Trip – 30 Nov to 3 Dec 2018
Adventure Rangers Mission Trip (ARMT2018) serves as a platform for our 11-14 year old boys and girls to be exposed to mission work where they are given opportunities to lead games, craft, praise and worship, share Bible stories and pray for others. Our 8th year, ARMT2018 set out with the theme verse from Mark 12:30. Love the Lord your God with all your heart and with all your soul and with all your mind and with all your strength. With 23 ARs, 9 AR commanders and 9 parents with 3 younger ones, we ministered to a total of 8 homes. 1 in JB, 30/11 at Berkat Children's Home, and 7 in Klang, 1/12 to 3/12. Good Samaritan Home, St Barnabas Home, Waja Home, Rakan Lutheran Home, Joseph Store, Dayspring Home and Lagenda Home.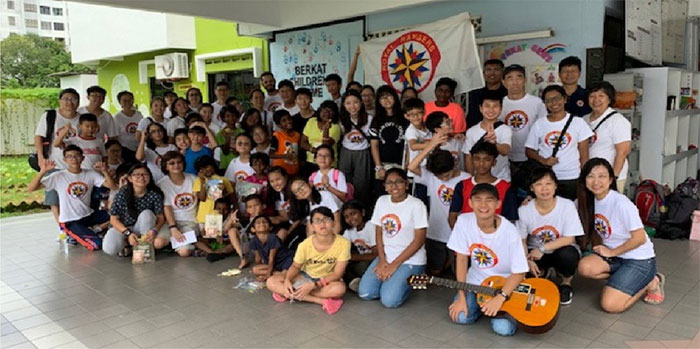 Berkat Children's Home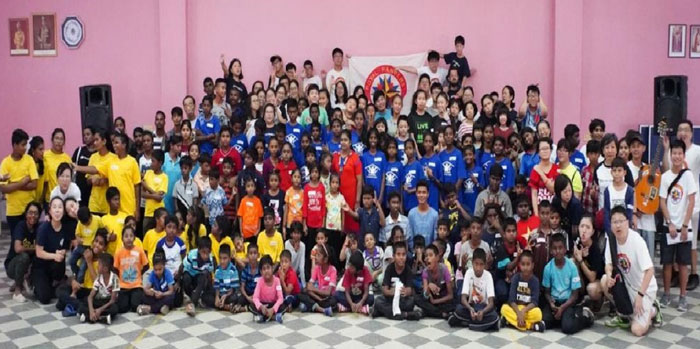 Day camp at St Barnabas church
At Klang, a day camp was organised on 1/12/18, Saturday, to a total of almost 180 children from the various homes represented. There were games stations, craft stations, praise and worship, yells and cheers and an indoor campfire (due to wet weather)! There were 2 age group camp services. Cmdr Mark shared at the 11year olds and below group, and Cmdr Amelia shared at the 12years and above. There were 29 salvations in total and many more rededicated their lives to God. Praise God!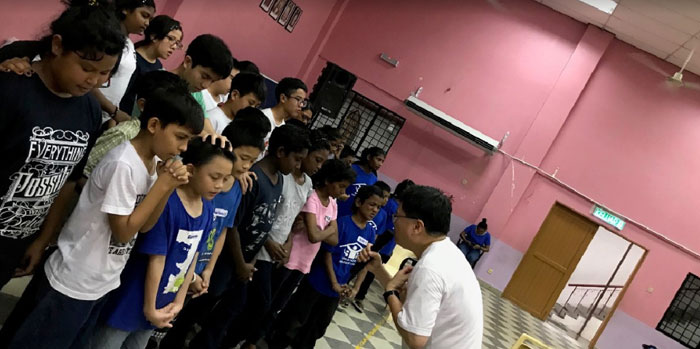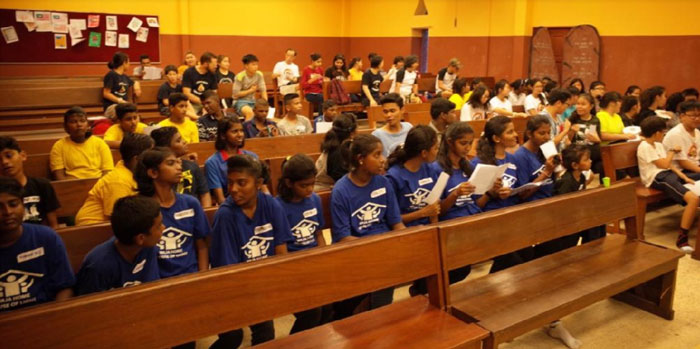 2/12/18 Sunday – 3 groups visited 3 Churches concurrently. The Awesome Generation Church, New Vision Assembly and Blessed Hope Fellowship. Ps San Ho, Cmdr Daniel Leong and Cmdr Kay Teck shared the word respectively.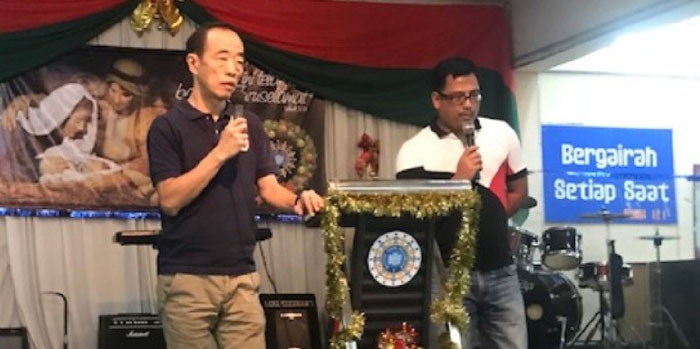 Blessed Hope Fellowship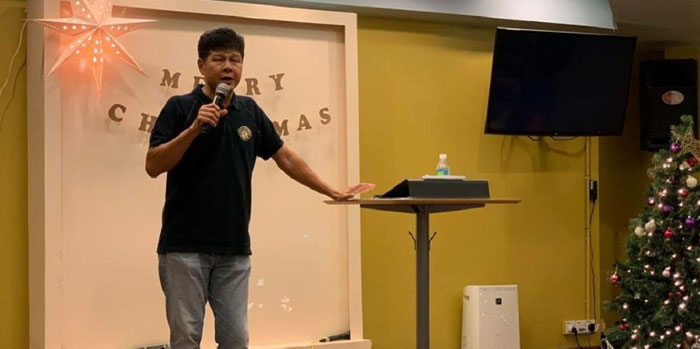 The Awesome Generation Church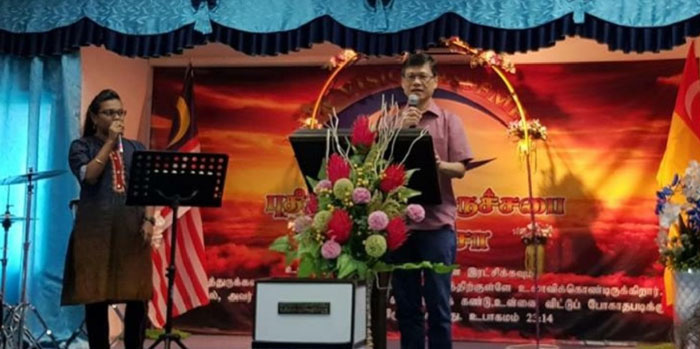 New Vision Assembly
In the same afternoon, ARMT2018 handled food distribution to 16 needy families. A note of thanks were written from Joshua, ic of the Joseph Store.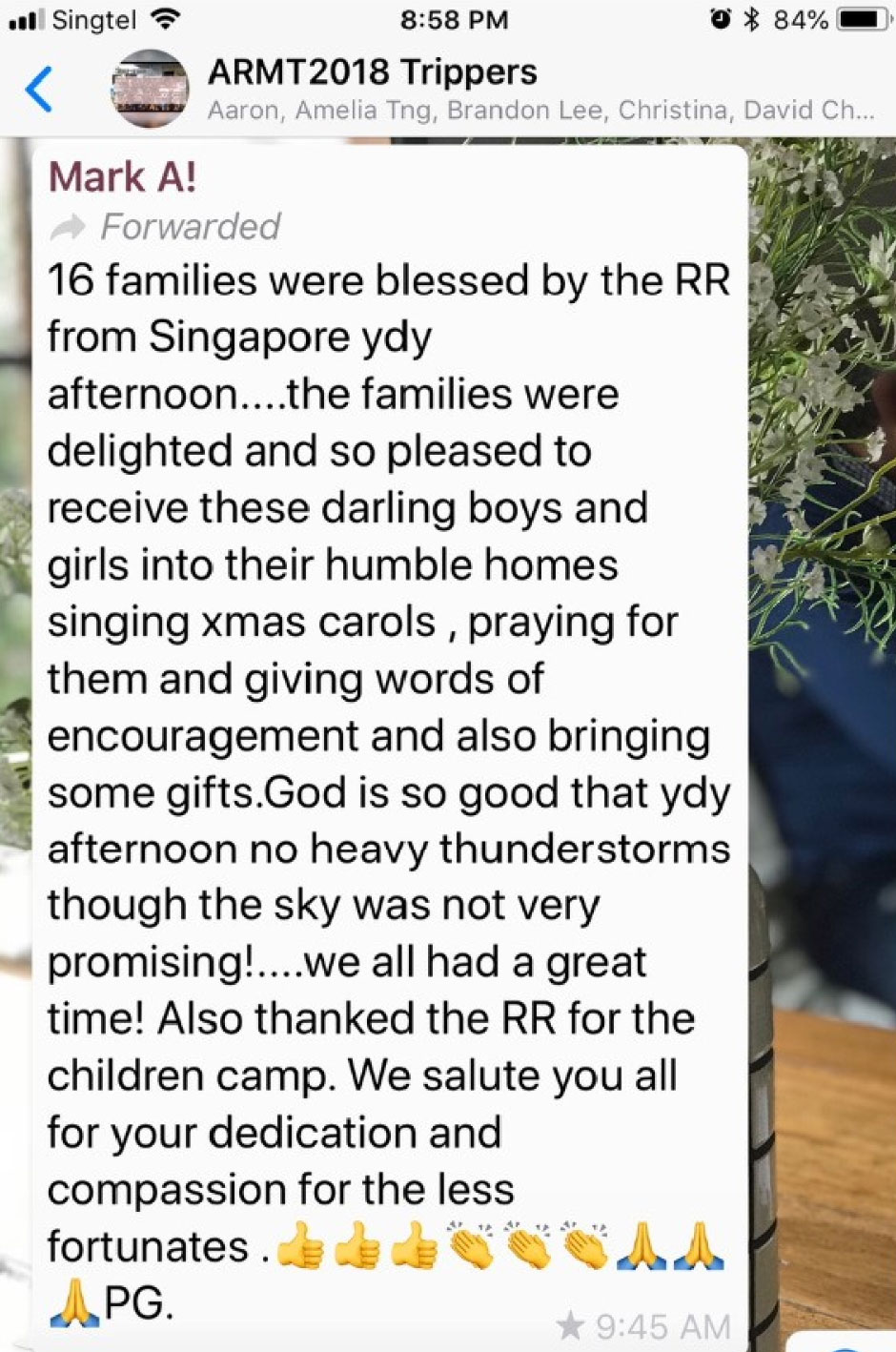 Monday, 3/12/18, 3 groups of ARMT2018 visited 3 different homes, Waja, Rakan Lutheran and Lagenda. Games were played, crafts led and prayers of blessings prayed before everyone head homeward after a lunch fellowship with Ps Albert and team.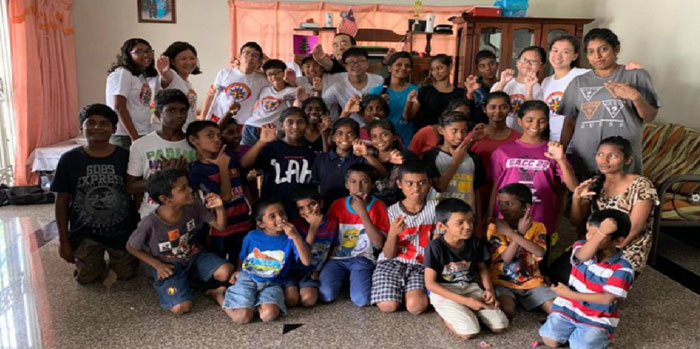 Waja Home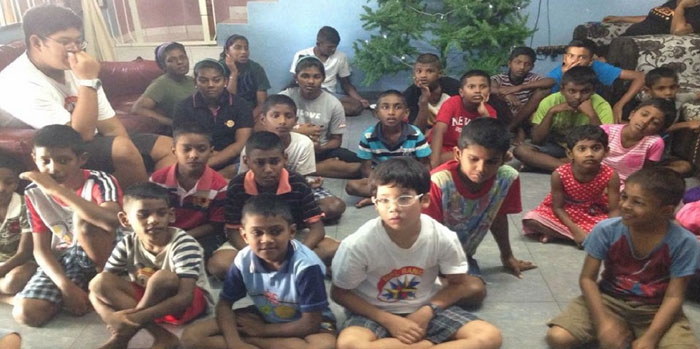 Rakan Lutheran Home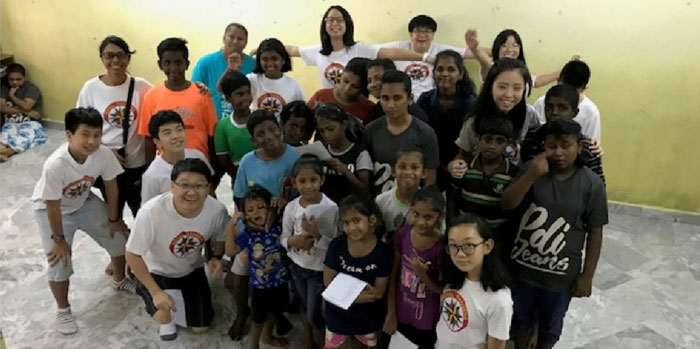 Lagenda Home
Bethel Royal Rangers #01 – Expedition Rangers Mission Trip
12 – 19 th December 2018, Bacolod and Iloilo, Philippines
The annual Expedition Rangers Mission Trip (ERMT) to Philippines is one that the Rangers and Commanders eagerly look forward to. Having established close relations with the pastors and churches there, the Filipinos have become akin to an extended family to many of us.
Last December, a team of 10 Expedition Rangers (aged 15-18) and 11 Commanders likewise flew up to the Philippines. Months of planning and preparation had gone into gearing up for this trip, and we were ready to run our full program – 2 full camps for the children in Bacolod and Iloilo respectively, Youth Leadership Workshops, House-to-House Evangelism, Women and Childrens' ministry and outreaches, ERs' Sunday Sermon Preaching, and many more!
While most of us had been to Iloilo previously, it was only the second time we were in Bacolod. Despite the unfamiliar environment, our ERs stepped up to the challenge and ran each of the various parts of the 2D1N camp. From games, to making patrol flags and bolo ties, to leading the campfire service at night.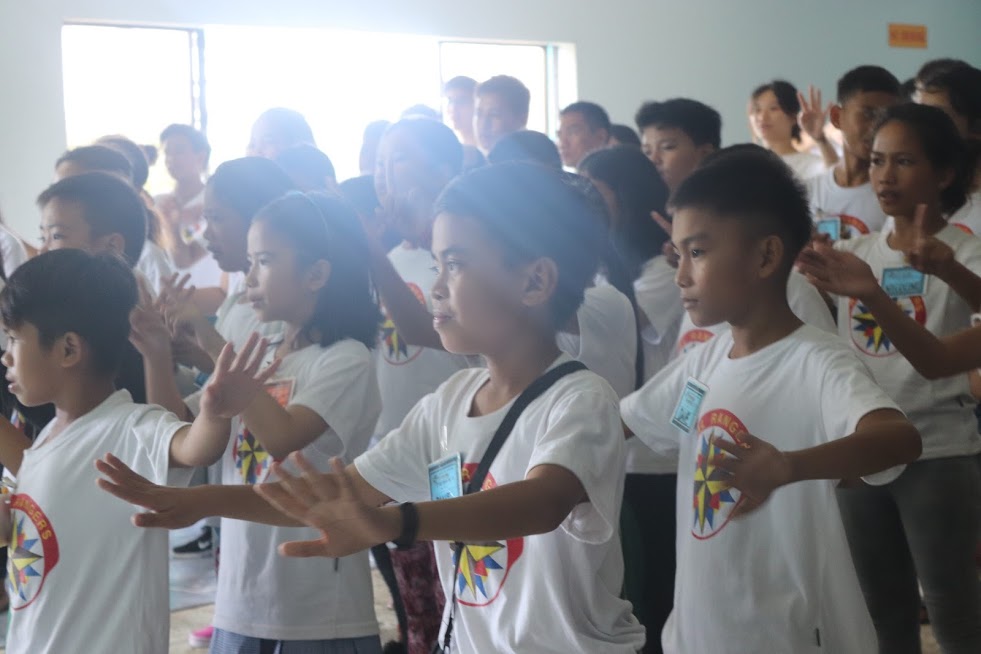 Mass games at Bacolod Camp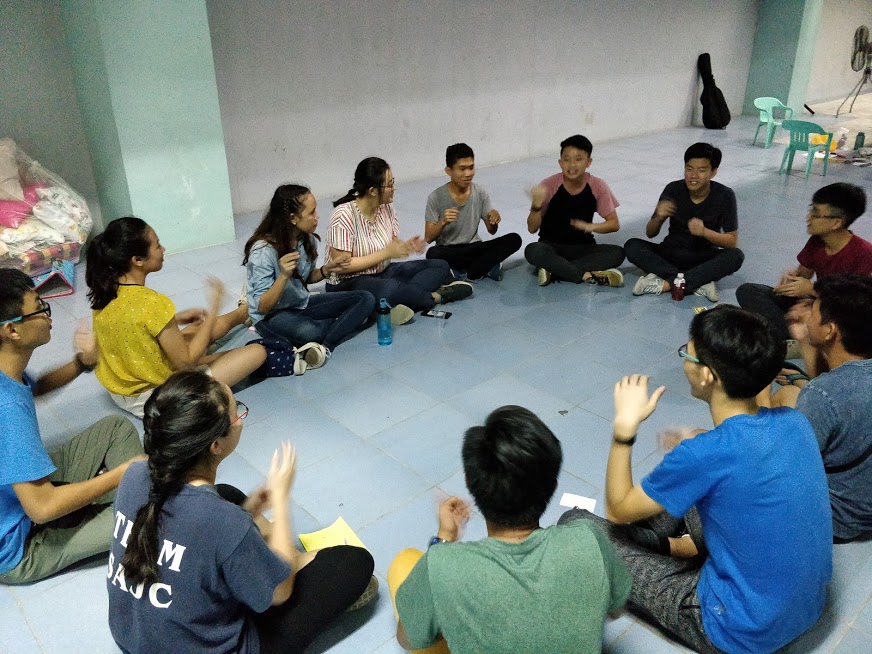 Fellowship among our ERs and the Bacolod youth leaders.
We were really proud of how the ERs poured their hearts out into the lives of both the children and youth leaders alike. Despite the sheer exhaustion from having to single-handedly take a patrol of 10-15 children, they still gave their all, never lacking in fervour or enthusiasm. How heartening it must be, if you could imagine with me, seeing a double rainbow TWICE just before we left Bacolod! Indeed, the Lord was with us and ever faithful with His promises to us.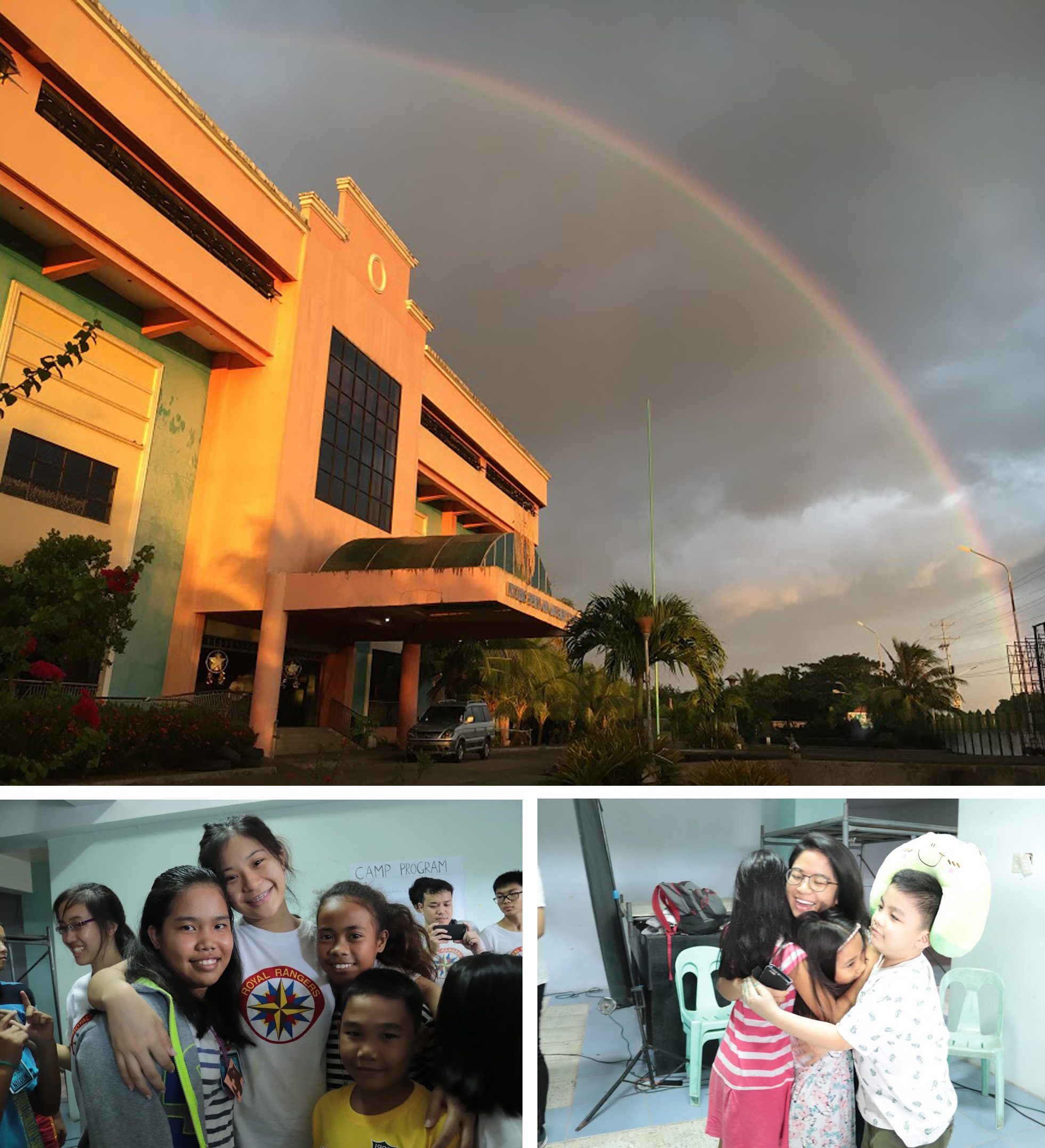 Bidding Goodbye
One highlight of our yearly ERMT would definitely be the Sunday sermon preaching, prepared by the ERs. Each ER would be paired with a Commander, and together we would go out to different churches. Having 10 pairs on our team, we covered a total of 10 churches! It truly was amazing how God had spoken to the ERs individually during their sermon preparation. Returning from our various churches that day, they testified on how the word God had dropped in their hearts were so timely and accurate for each of the different churches they were assigned to!
This trip, we also did house-to-house evangelism at a relocation village. Bringing daily necessities and food supplies to the people, we managed to interact with the locals, and got to pray for many families. In return, God blew us away with salvations in the short few hours that we were there for.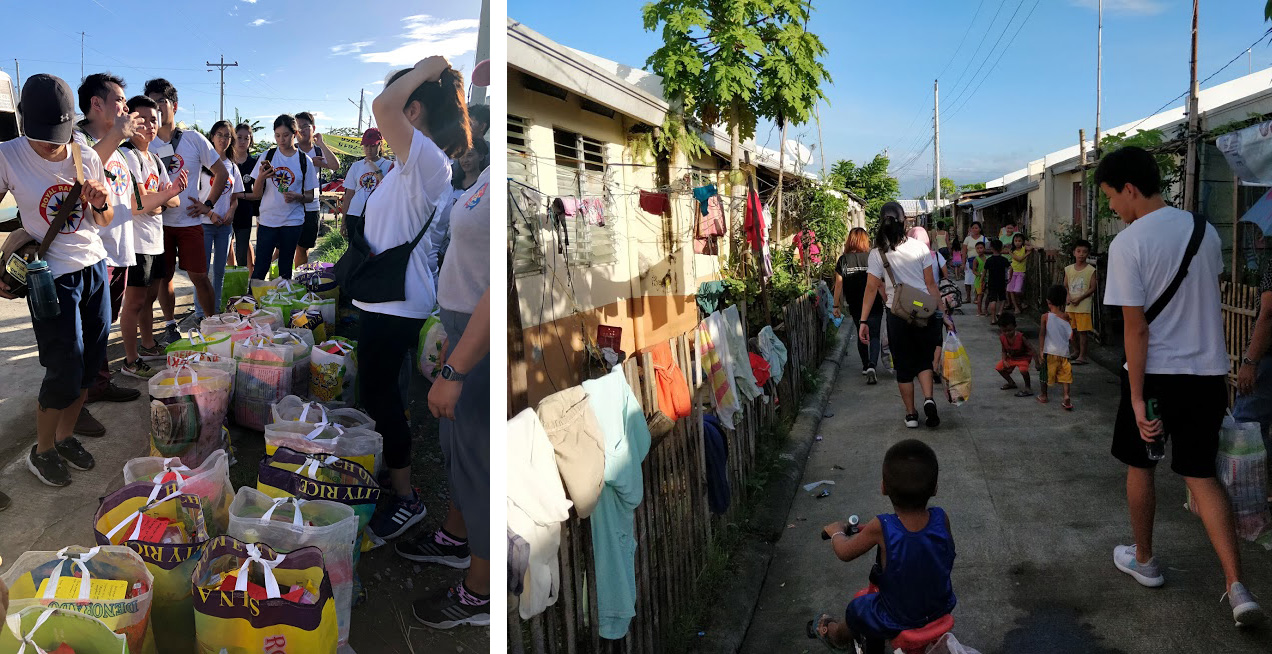 At the Relocation Village
Lastly, Iloilo camp. We might have experienced the move of God so powerfully throughout the entire trip, but here is one miracle that I would like to share. Like the camp we ran at Bacolod, we ended the last night of the camp with a campfire. A Royal Rangers campfire is significant to many. They hold fond memories of bonding among the Rangers and Commanders alike, capturing their laughter as the campfire burns brightly, lighting up the night sky. But as the night weighs on and the campfire simmers down, that was often when the we would feel the presence of God in such a strong and tangible way. Having that in mind, we wanted to set this similar environment for a personal encounter with God in the Philippines.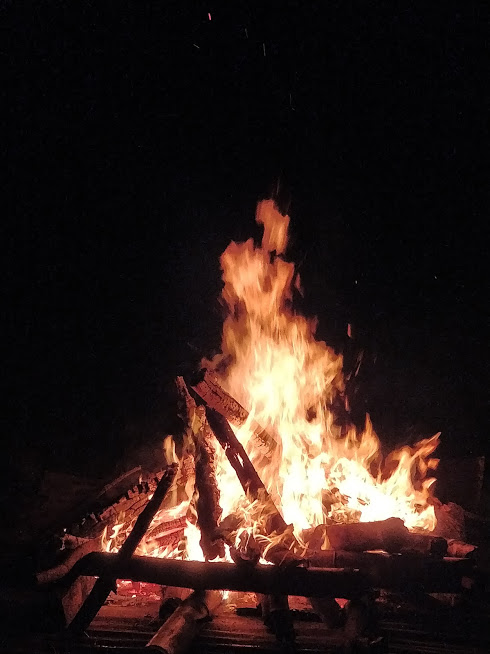 Last Campfire Night.
So, the stage was set for the campfire – logs and wood were ready to fuel the fire. Groundsheets were placed for the kids to later settle down on. Lights were tested. Sound check was done. Then, just 15 mins before the stipulated start of our campfire program, it came. It started with a drizzle, but then it gradually got heavier. Before we knew it, it was pouring.
Instead of clamouring for shelter or searching for Plan B options, the ERs started praying. As they saw the rain getting lighter before their eyes, they started praising. Praying, and praising. Praying, and praising. Right until the rain completely stopped, just in time for our campfire.
God's hand continued to be upon us, blessing us with cool weather and smooth running of the program. He also spoke powerfully through a message delivered by Cmdr Joylynn, who ended off her sharing with an altar call that almost the whole camp responded to. As the children were streaming to the front to be prayed for, the rain started again. The leaders and commanders picked up the ground sheets to shelter the children at the altar, as if lifting a banner of victory over the children. The heavier the rain got, the louder the children sang. The rain started pouring and stopping again, for yet another 3 times. However, no one was fazed, because we all knew that God was not done working in the children's lives. Each of the 3 times, the leaders lifted and removed the ground sheets, allowing the ministry to continue.
There was such a tangible manifestation of the Holy Spirit at the altar – children broke down in tears as they were touched, speaking in tongues, and some were slained in the spirit. God's presence was clearly evident. The entire campfire service was such a testament of the greatness of our God – the broken were healed, the captives were set free. Lives were touched, and lives were changed.
I could go on about so many other events that happened during trip, and so many other instances where God showed Himself so real to us, but nothing would beat physically being there and experiencing the fullness of His love for yourselves. Indeed, our hearts have been thoroughly blessed!
"Thank you for making this camp happen again. The Royal Rangers are a blessing to us, and we have also learned more about Jesus. We're happy to see all of you. I pray that God will continue to bless Royal Rangers, and use all of you mightily. May God bless all of you, and I hope you will come back soon."
– Rey Yha Trstz, Philippines Youth Leader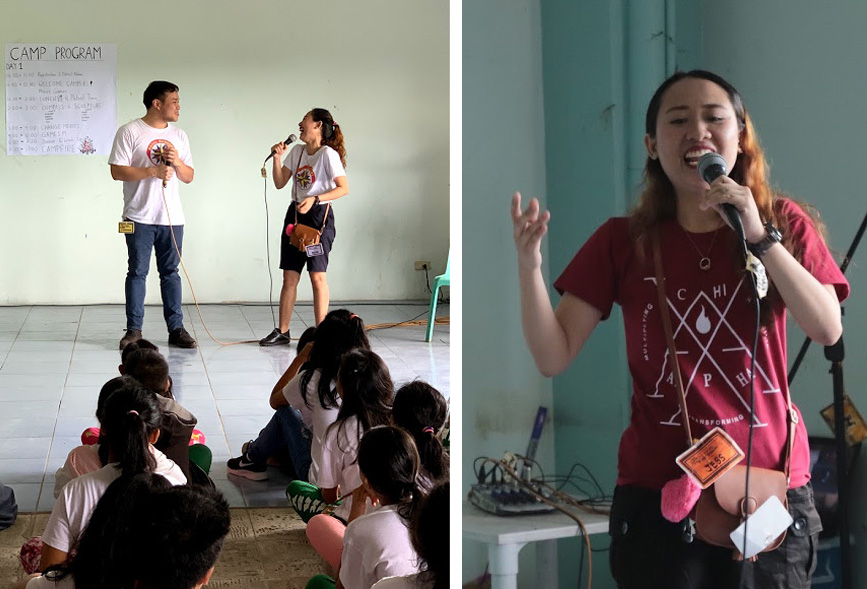 "Through this camp, we, the youth leaders' passion in Christ has been revived… We are more eager and inspired to lead the children in RR."
– Ram, Philippines Youth Leader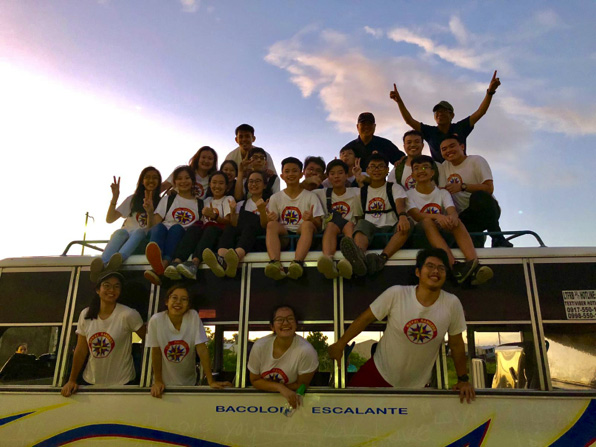 Till the next trip! ERMT 2018, over and out~
Ever Ready.
Cmdr Deborah Tan